Have you been searching for a convenient way to effortlessly work out at home? Then at some point, you must have considered to settle for either elliptical or treadmill. To make the right decision, you must settle for a machine that matches your budget and fitness goals. Prior to delving into the pros and cons of each, it's highly important to highlight each machine. Here's a brief overview.

Note: These two machines differ mostly in their design.

Elliptical Trainer

Elliptical trainers feature stride-like motions similar to using a stair climber or running. It all depends on the model. Generally, these machines allow you to adjust the resistance and incline so that you can target different muscle groups.

Treadmill

Treadmills feature a long deck for purposes of walking or running. These machines enable you to adjust speed and incline in order to change the different levels of cardiovascular endurance.

Treadmills


The following are the pros and cons of treadmills:

Pros


Well-researched – Treadmills have been in existence since the1800s. Naturally, they've been perfected, developed, and researched more compared to any other cardio equipment.
Weight bearing effect – Walking and running can be handy at helping you strengthen muscles and bones hence aiding your sustainability and posture as you age.
High work output – Working on a treadmill helps your body to burn more calories since it applies more effort.
Emulates natural movements – The advancements in technology inform the innovations in the fitness field. Currently, fitness moguls are coming up with machines that emulate natural movement for sprinting, jogging, and walking.
Versatility – Treadmills provide you with an array of options when it comes multiple training programs, incline, and speed.


Cons

Might be tough on joints – Running on a treadmill might put stress on your ankle, knee, hips and spine. This is especially true if you don't stretch or warm up before stepping on the machine.
Unnatural handles – Holding to treadmills while running might be not only awkward but also challenging.
Difficulties here and there – Most people experience difficulties when running on a treadmill especially on an incline.
Safety issues – If you aren't skilled, high intensity training like incline sprints might be risky.
Posture problems – Certain studies indicate that the belt's size can cause folks to change the manner in which they run or walk.


Elliptical Trainers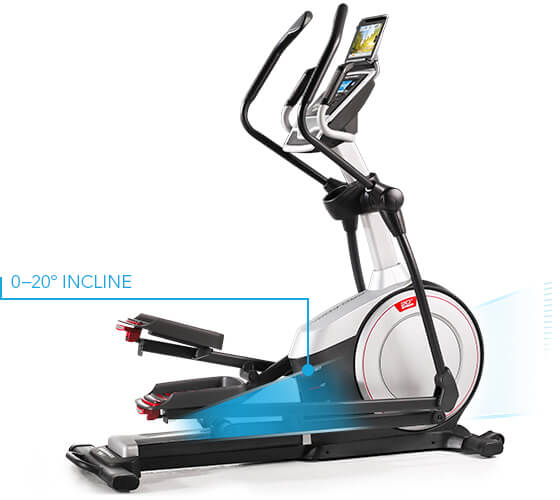 Here are the pros and cons of elliptical trainers:

Pros


Non-impact conditioning – These machines allow the body to emulate running motions without causing strenuous impact on the joints.
Lower perceived exertion – According to studies, users of elliptical machines have a tendency of working harder compared to their actual perception. That means that this trainer can help you burn substantial amounts of calories with lesser efforts.
Reverse stride – One of the elliptical machine benefits is that they allow you to make reverse strides. That helps to activate various muscle groups as well as focus on quads. Additionally, they can assist provide an adjustable variety mid-workout.
Cross training ability – Today's machines are equipped with moveable handles that enable you to exercise both the lower and upper body at the same time.


Cons

Momentum – Especially on lower levels, operating an elliptical trainer makes you utilize its momentum to power it.
Less weight bearing effect – As much as less impact is good at helping to prevent injury; it brings with it some drawbacks. For instance, since the pedals are suspended from the ground, they tend to lack the 'weight-bearing effect' that's utilized when running. The weight bearing exercises normally strengthen muscles and bones. They particularly help older people prevent osteoporosis.
Less dynamic – When using a treadmill, adjusting speed and incline leads to great variation in terms of intensity. Ellipticals on the other hand lack the incline feature.


Final Thoughts (Who Wins)

In the battle of elliptical vs. treadmill, both are winners. A treadmill and elliptical trainer boast the ability to provide you an effective workout right in the comfort of your home. You don't have to hit the gym with either of these machines in your home. Since each of them has cons and pons, your choice narrows down to fitness goals and preferences. An elliptical trainer is ideal to those that want to cross train as well as keep it more low-impact. On the other hand, a treadmill is the best if you desire to enjoy endurance training and speed intervals while running. Regardless of the machine you opt for, it's all about the amount of calories you intend to burn and long-term results.